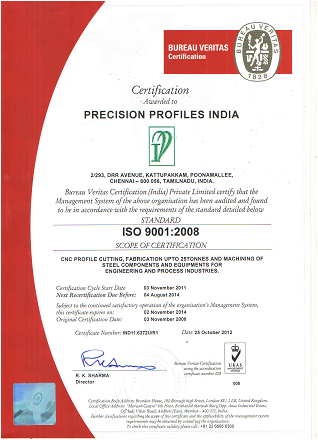 About Precision Profiles
Precision Profiles India was Founded in the year 2006 on October 2nd . We specialise in CNC Profile Cutting , Small , Medium and Heavy Fabrication. Our Manufacturing Capacity is upto 100 tonnes per month with 10 tonnes capacity of Handling. Building Quality into workplace, products & services through total employee involvement, waste elimination, cost reduction & teamwork shall be the guiding values for our continual improvement.
Precision Profiles is an ISO 9001:2008 Certified Company. Our Nature of products target customers in Material Handling , Machine Building and Process Industries. Our Wide range of Product Categories include Valve Body & Disc , Profile cut Plates , Handling Equipments , Pressure vessels , Agitators(SS , MS) , Components for Process Industries , Wind mill Accessories , Special purpose Machines , Fabrication Components , Machining Components , Mixers for Cement Factories.
PPI as a certified vendors in defense Sectors
Research & Development Establishment(Engineers) DRDO
Combat Vehicle Research & Development Establishment
Advanced Systems Laboratory (DRDO)
Corporate Social Responsibilities
Due to deficit rainfall the water reservoirs in Chennai city are nearly empty. Anticipating this situation, Metro water explored the possibility of using the stored rain water in the abandoned quarries around the city.
Precision profiles joined hands with Metro Chennai Corporation to Fabricate & Assemble the Pumping System that will float in the quarries waters to discharge.
Precision profiles skilled Employees fabricate & assembled the Floating system with 425 hp Motors